DVMUG Food SIG Meeting
Thursday, August 24th from 7pm to 9pm
Leader:

Anne Griffin
925-405-5646

Leader:

Karen Mahshi
Each summer this SIG meeting explores the food and recipe resources available on the Internet and does in-house sampling and comparing of both common and exotic foods. Those who meet at the office at 5pm, before the SIG meeting's official start, will sample have a bite to eat before returning to the office at 7pm to check out recipes and info on the Internet.
Previous DVMUG Food SIG Meeting Topics and Photos
 Get a map to the DVMUG Office: http://goo.gl/oiFj
  You can RSVP on the Facebook meeting page
This month we will be tasting Fruit Preserves
DVMUG MacClinic
Saturday, August 26th from 10am to 4pm
DVMUG Office
396 Civic Drive
Pleasant Hill
Leader: Rick Calicura
925-228-4992
Clinic volunteers include,
John Sobrero
Anne Griffin
Don Nelson
Tina Tanenbaum
Brenda Boswell
Chris Wysocki
Get a map to the DVMUG Office: http://goo.gl/oiFj
Previous Clinic Lunch Photos at,
dvmug.org/blog/?p=8994
Dedicated to making sad Apple devices happy. A staff of experts will help you add RAM, upgrade your operating system to the latest version, put in a new hard drive, or fix your slow-running or bad-acting Mac, iPhone or iPad. Appointments for the MacClinic must be made by phone (for triage), then time slots will be assigned. Just as a reminder, while the MacClinic is free, the club relies upon your donations to help offset the club's ever growing expenses.
Add RAM to your Mac
Upgrade your Mac to an SSD drive
Install a backup drive or recover data from a hard drive
Upgrade macOS or iOS to the current version
Migrate your apps and data to a new Mac
Securely erase an old Mac for ewaste or donation
Backup your iPhone or iPad to your Mac
Sync your iCloud to your Mac, iPhone and iPad
Perform housecleaning and remove old apps and downloads from your Mac
MacClinic Favorite Apps
DVMUG macOS Meeting

Tuesday, August 8th from 7pm to 9pm
DVMUG Office
396 Civic Drive
Pleasant Hill

Leader: Anne Griffin
925-405-5646
Get a map to the DVMUG Office: http://goo.gl/oiFj
You can RSVP on the Facebook meeting page
Questions, answers, and demonstrations of the features of our current operating systems—Mavericks, Yosemite El Capitan and Sierra. Questions on your own setup welcome.
macOS Sierra
apple.com/macos/sierra
At the August meeting we will look at the macOS Utilities Folder.
Activity Monitor
Disk Utility
Keychain Access
AirPort Utility
Migration Assistant
System Information
How to use Activity Monitor on your Mac
Activity Monitor shows the processes that are running on your Mac, so you can manage them and see how they affect your Mac's activity and performance.
Read more here
AirPort Utility Explained
AirPort is Apple's term for all things WiFi, from the technologies built into your Mac to its own lineup of routers and base stations.
Read more here
Mastering Disk Utility in macOS Sierra
Even the most casual of Mac users will need to use Disk Utility at some point. Examples include setting up a backup disk or partitioning an external drive, so knowing the basic ins and outs of the program are beneficiary.
Read more here
Everything you Need to Know About Keychain in macOS Sierra!
Keychain is a password management system for macOS and iOS that was originally released with Mac OS 8.6 back in 1999 as a way of holding passwords, private keys, certificates and secure notes in encrypted files on the machine.
Read more here
How to migrate your old Mac's data to your new Mac
Thanks to Migration Assistant, moving your old Mac's data to your new Mac is as simple as can be.
Read more here
Four reasons you should use OS X's System Information utility
When troubleshooting your Mac, you often need to get information about your system and what's going on inside of it, either to help you identify and fix the problem yourself or so you can convey that information to others who might help.
Read more here
Mac Essentials
Saturday September 2nd 10am to 12pm
DVMUG Office
396 Civic Drive
Pleasant Hill
Learn the basic ins and outs of the Macintosh computer, the core interface elements—the menus, Finder, and Dock—so you can start working with files, folders, and applications right away. Learn also the core applications that come bundled with the Mac OS (Mail, Calendar, iMessage, iTunes, and Safari), and how to install new apps from the Apple Store. Each meeting will start with YOUR questions.

Leader: Robert Skapura
925-933-4257
Get a map to the DVMUG Office: http://goo.gl/oiFj
2017 DVMUG-Apple User Group of Rossmoor Film Fest
Tuesday, August 15th · 7pm – 9pm
Peacock Hall in Rossmoor
Tice Creek Dr and Golden Rain Rd
Walnut Creek, CA
Get a map to the Peacock Hall: http://goo.gl/CP5aA
 You can RSVP on the Facebook meeting page
Previous Film Fest Awards and Videos
Lights! Camera! Action! It's Film Fest Time Again!
If you have been to one of our previous Film Fests at Rossmoor's luxurious Peacock Room, you already know it is a match for the finest private theater around, with lush soft seats, a grand screen, and a high-quality sound system. At the Fest, you will get to view some of the excellent short presentations made by members of the Diablo Valley Mac User Groups and the Apple User Group of Rossmoor.
The winning entry will be chosen by a vote of the audience. Additional awards will be presented for editing and photography.
Immediately following the Film Fest screenings, come to a wine-and-cheese awards ceremony held in the adjacent Fireside Room. Even if it's broiling outside, you can enjoy the Fest and awards ceremony in air-conditioned comfort. Meet your friends, have a glass of wine, and savor the gourmet cheeses personally selected by our DVMUG Food SIG Leaders.
Peacock Hall in Rossmoor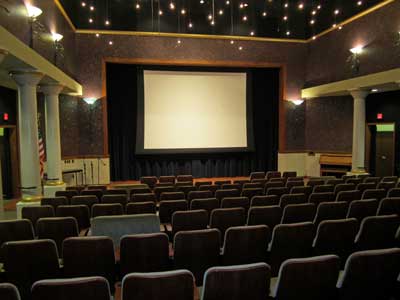 Peacock Hall in Rossmoor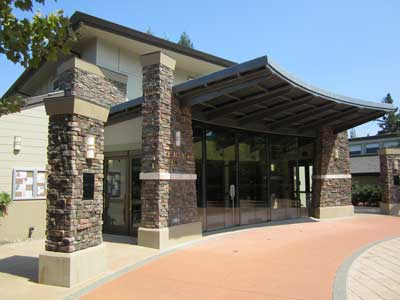 SaveSave
SaveSave