DVMUG macOS Meeting

Tuesday, July 11th from 7pm to 9pm
DVMUG Office
396 Civic Drive
Pleasant Hill

Leader: Anne Griffin
925-405-5646
Get a map to the DVMUG Office: http://goo.gl/oiFj
You can RSVP on the Facebook meeting page
Backup Software
How to clone your Mac so you can use it as a backup
You can create a bootable copy of your hard drive by cloning it. If you've never done it before, we've got you covered.
Read more here
How to Back up and restore your Mac with Time Machine
Time Machine is the Mac's built-in backup software. Here's how to set it up and use it.
Read more here
Questions, answers, and demonstrations of the features of our current operating systems—Mavericks, Yosemite El Capitan and Sierra. Questions on your own setup welcome.
macOS Sierra
SaveSave
SaveSave
SaveSave
SaveSave
SaveSave
SaveSave
SaveSaveSaveSave
SaveSaveSaveSave
SaveSave
SaveSaveSaveSave
SaveSave
DVMUG Internet SIG Meeting
Saturday, July 15th , 2pm-4pm
New Day and Time
DVMUG Office
396 Civic Drive
Pleasant Hill
(Third Saturday of the month)
Leader: John Sobrero
925-335-6789
www.sobrero.net

Leader: Anne Griffin
925-405-5646
Get a map to the DVMUG Office: http://goo.gl/oiFj
You can RSVP on the Facebook meeting page
As always, any topic related to the Internet, DVMUG BBS, Google, Facebook, Email and the Web are fair game.
Google
Social Media
Internet Utilities
We can also explore any Web Publishing options you bring to the table.
The FirstClass Client 12 will crash and be unable to log in to the DVMUG BBS under macOS Sierra.
If you are going to install Sierra you will need to install the beta version of FirstClass Client 16 first before trying to login with macOS Sierra from the link below.
The DVMUG BBS FirstClass 16 Client download is available from the DVMUG web page at, http://fc.dvmug.org
FirstClass Mobile 16 for iPhone and iPad is available at, http://itunes.apple.com/us/app/firstclass-mobile/id310607705?mt=8
If you have an iPhone, iPod touch or iPad bring it to the SIG and we will help you get it set up to login to the DVMUG BBS.
SaveSave
SaveSave
DVMUG Food SIG – Smoked Fish
More photos at,
goo.gl/photos/kpxH5jwrGiR96VXm9
SaveSave
DVMUG-Rossmoor Picnic
Wednesday, July 19th 2017 · 6:00pm to 8:00pm
Sportsman's Park
Hillside Complex
3400 Golden Rain Road
Rossmoor
Walnut Creek
Get a map to the DVMUG Picnic: http://goo.gl/cVIYFl
 You can RSVP to the Picnic on the Facebook meeting page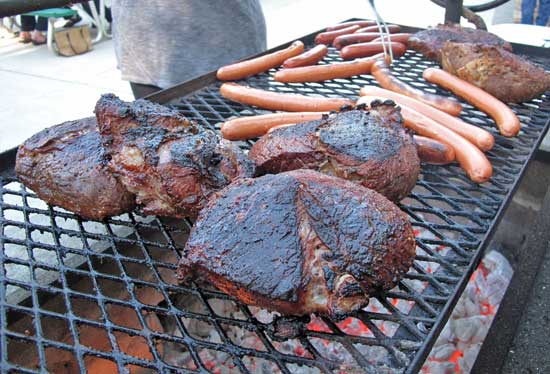 You can get a map here.
As always, the group will supply the meat and drinks, and you are encouraged to bring a dish or a dessert. This event is always a lot of fun and I encourage you to join us for what will be a very enjoyable time with good food and good company.
SaveSave
SaveSave
SaveSave