Archive for February, 2020

DVMUG Meeting 5-20-20 on YouTube
Defense Against the Dark Arts: Protecting yourself from Scams, Malware, and Phishing Attacks
2-20-20

Peter Weiler
Peter will report on the numerous techniques scam artists use to infiltrate our digital lives – compromising or disabling our Macs, iPads, and iPhones, stealing our identities, and emptying our bank accounts.
The main focus will be on phishing attacks, as these are now the choice du jour of scammers. We'll discuss what you can do to identify and disable potential attacks, and how to prepare so that you can correct damage if an attack gets through. During the presentation, we will examine a variety of actual phishing messages.
The best defense against scam artists is personal awareness, preparation, and maintaining attention while online.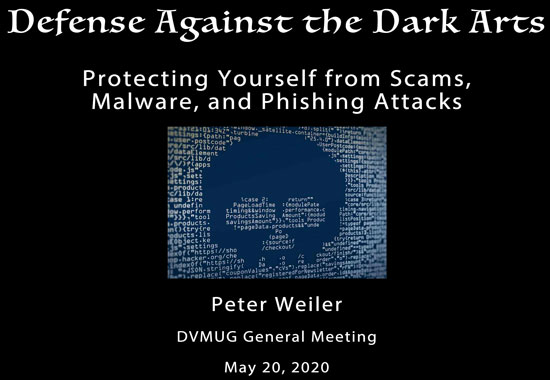 DVMUG Main Meeting
Wednesday, February 19th · 6:30 pm to 9:00 pm
Pleasant Hill Community Center
320 Civic Drive, McHale Room
Pleasant Hill

Linda Rubio will be showing a preview of what she has planned for the new DVMUG iWork SIG.
Pages, Keynote and Numbers are free programs that come with macOS. It is not about all you want to know about those programs; rather, it is about what you personally need to know. It is an approach on how to say it, how to search for it, how to be effective in your presentation of it. How can you use these programs to describe your resume or recipes, or list the parts required for the carpenter to fix something? How can you create and use a sideshow, or create spreadsheets to track money or budgets?
---
The Diablo Valley Mac Users Group helps Macintosh users get the most out of their computers. Software, hardware, digital filmmaking, photography—these subjects and more are covered in the club's monthly General Meeting, workshops, and Special Interest Groups.
You are invited to attend our general meetings at the Pleasant Hill Community Center for vendor and club presentations on new hardware, software, and other items of Mac interest. Meetings start at 6:30 p.m. with a Question & Answer segment where you are welcome to ask about your own Mac problems; there's a break during which the club Mac experts answer your questions one-on-one, and a raffle in addition to the main presentation, usually by a software publisher or hardware manufacturer.
Dues for the entire family are $40 per year-a bargain! Especially since it includes access to the club's weekly email including current Apple news and How-To tips, and attendance at all Special Interest Group meetings including the monthly MacClinic, where club experts diagnose and repair what's wrong with your Mac as well as helping you with software upgrades, hard-drive replacement, and similar improvements.