Archive for the 'Main Meeting' Category
Previous Film Fest Awards and Videos
Lights! Camera! Action! It's Film Fest Time Again!
If you have been to one of our previous Film Fests at Rossmoor's luxurious Peacock Room, you already know it is a match for the finest private theater around, with lush soft seats, a grand screen, and a high-quality sound system.
Immediately following the Film Fest screenings, join us for wine & cheese in the adjacent Fireside Room.
The Film Fest kicks off at 7 pm on Tuesday, August 20that the Peacock Theater in Rossmoor. Admission is free.
Peacock Hall in Rossmoor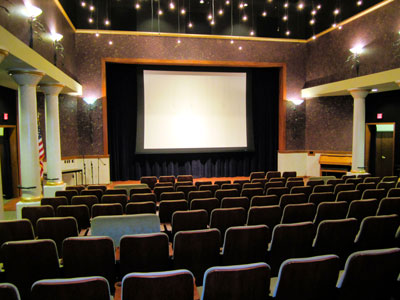 Peacock Hall in Rossmoor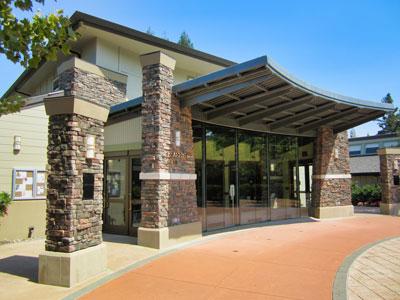 This month we will be demonstrating Backup Software including Time Machine, Carbon Copy Cloner and SuperDuper!
How to back up your iPhone, iPad, and Mac: The ultimate guide
You should really back up all of your data. That day you lose it is the day you'll wish you had listened.
Read more here
How to clone your Mac so you can use it as a backup
You can create a bootable copy of your hard drive by cloning it. If you've never done it before, we've got you covered.
Read more here
How to Back up and restore your Mac with Time Machine
Time Machine is the Mac's built-in backup software. Here's how to set it up and use it.
Read more here
Tap Forms 5
The digital filing cabinet for your life.
Accounts, recipes, expenses, inventory — life is full of things that we don't want to forget or misplace. Tap Forms helps you organize all kinds of things in one place — secure, searchable, and accessible on your Mac, iPhone, iPad, and Apple Watch.
Bento Compatible
Using the Mac version of our app, you can easily import your existing Bento data by simply selecting your template file exported from Bento.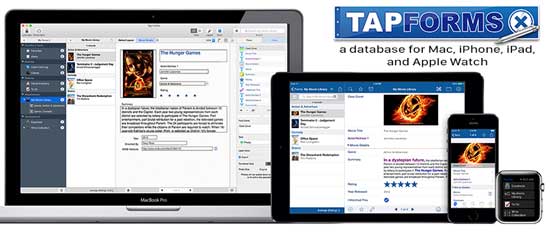 At the September Main Meeting we'll be reviewing and discussing the Apple Special Event that occurred on 9/12/2017.
Apple introduced several new products and discussed changes. These are products our members may be considering purchasing in the future so let's review and discuss the presentation as well as some of the changes that Apple made but did not present. We'll also do a brief demonstration of iOS 11.
Missed the Apple Special Event? Here's how you can watch it
Apple makes the video of its events available online in case you couldn't watch it live.
Read more here
iTunes 12.7 Giveth, but Mostly It Taketh Apps and Ringtones Away
This week, Apple released iTunes 12.7 with support for iOS 11 devices. iTunes 12.7 requires OS X 10.10.5 Yosemite or later. The new iTunes 12.7 has a few minor tweaks and one big change: the removal of the iOS App Store.
Read more here
iPhone 8 and 8 Plus: Wireless charging, Portrait Lighting, and five more features you'll want
The iPhone 8 and 8 Plus have the Home button and body bezels, they still use Touch ID instead of Face ID, and the LCD screen sizes are the same that you're used to. But don't call them retro.
Read more here
New iPhone 8, 8 Plus and X, Apple TV 4K, and Apple Watch Series 3
Apple held its first special announcement event at the new Steve Job Theater on the new Apple campus, announcing new iPhones, Apple TV and Apple Watch.
Watch here
23 Things Apple Announced That You May Have Missed
Apple announced new iPhones, a new Apple TV, and a new Apple Watch. Here are 23 details and other announcements that you may have missed. Some of these were not even mentioned during the event, but simply posted to the website and through updates later in the day.
Watch here
Apple Watch Series 3: Six reasons why it's a must-upgrade
Apple has announced Apple Watch Series 3, and it brings a whole lot more than a cellular connection. Here's why you'll want one.
Read more here
Apple Watch Series 3: How much data plans will cost
Apple Watch Series 3 with cellular will add a few dollars to your wireless bill. Here's how much data will cost on every carrier.
Read more here
Apple TV 4K adds HDR and faster performance
The fifth-generation Apple TV model offers 4K HDR video, better access to live sports, and an iPad Pro CPU, all for $179.
Read more here
iPhone X: Face ID, OLED screen, wireless charging and the other features you'll care about most
Good-bye Home button, hello OLED, Face ID, and Animoji. Here's everything you need to know about the iPhone X announcement.
Read more here
Apple AirPower wireless charging pad: Everything you need to know
How does it work? Will it work with my iPhone? How much is it? We have answers to these questions and more
Read more here
Apple WWDC Review
Apple announced its future direction at the 2017 World Wide Developers Conference (WWDC), held in early June. This month's General Meeting main presentation will cover all the new and future software and hardware changes that Apple is bringing out this year. You will find out what you need to know before deciding whether you want to upgrade to the latest and greatest when it becomes available.
Apple posts video replay of WWDC 2017 keynote
Apple has posted the official video of its WWDC 2017 keynote on its website
Read more here

All of Apple's big announcements from WWDC 2017
Apple made a lot of announcements today at WWDC 2017, including the latest versions of iOS, macOS, and watchOS. There were also new Macs and iPads for those looking for new hardware.
Read more here
Apple Beefs Up iMac and MacBook Lines
As part of the announcement-heavy WWDC keynote, Apple has revved the iMac line with Intel's 7th-generation Kaby Lake CPUs, higher performance graphics, brighter screens, and faster SSDs. The MacBook and MacBook Pro also get new CPUs, the MacBook becomes more expandable, and the MacBook Air receives a small speed bump.
Read more here
iPad Pro: How does the all-new 10.5-inch model compare to the 12.9-inch mega tablet?
Apple continues to expand its iPad Pro lineup with a new 10.5-inch display and an update to its original 12.9-inch model. Here's everything you need to know.
Read more here
watchOS 4 FAQ: Everything we know about the Siri face, fitness features, and Music app
Learn all about the upcoming watchOS 4, including its release date, top features, and biggest changes.
Read more here
Apple HomePod FAQ: Everything we know about the new Siri smart speaker
Does Apple's HomePod have enough advanced features to compete against Amazon Echo and Google Home?
Read more here