DVMUG-Rossmoor Picnic
Wednesday, July 17th, 2017 · 5:30 pm to 8:00 pm
Sportsman's Park
Hillside Complex
3400 Golden Rain Road
Rossmoor
Walnut Creek

Get a map to the DVMUG Picnic
As always, the group will supply the meat and drinks, and you are encouraged to bring a dish or a dessert. This event is always a lot of fun and we encourage you to join us for what will be a very enjoyable time with good food and good company.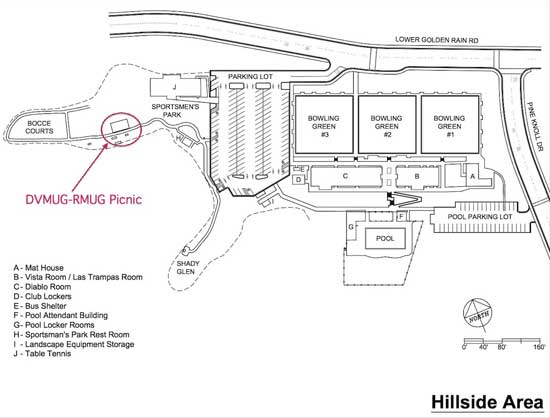 This Week at DVMUG 07-14-2019
General Meetings are taking a break over the summer months but that's not to say we're not doing anything. This week, in place of the General Meeting, DVMUG will be having its annual picnic. This year it's at the same location as last year, in the heart of Rossmoor, at the Sportsman's Park in the Hillside complex.
---
The Diablo Valley Mac Users Group helps Macintosh users get the most out of their computers. Software, hardware, digital filmmaking, photography—these subjects and more are covered in the club's monthly General Meeting, workshops, and Special Interest Groups.
You are invited to attend our general meetings at the Pleasant Hill Community Center for vendor and club presentations on new hardware, software, and other items of Mac interest. Meetings start at 6:30 p.m. with a Question & Answer segment where you are welcome to ask about your own Mac problems; there's a break during which the club Mac experts answer your questions one-on-one, and a raffle in addition to the main presentation, usually by a software publisher or hardware manufacturer.
Dues for the entire family are $40 per year-a bargain! Especially since it includes access to the club's award-winning monthly newsletter, ApplePRESS, and attendance at all Special Interest Group meetings including the monthly MacClinic, where club experts diagnose and repair what's wrong with your Mac as well as helping you with software upgrades, hard-drive replacement, and similar improvements.

Tuesday, July 23rd
7 pm to 9 pm
(Fourth Tuesday of the month)
New Location
DVMUG Office 396 Civic Drive Pleasant Hill

 Get a map to the DVMUG Office

Leader: Chris Wysocki
510-299-4157
iOS 12 apple.com/ios/
If you've installed iOS 12 and have questions, we'll answer them. Bring your iPhone and iPad to the SIG and we'll do more interactive training. Also, don't forget to share any fun apps you've found with the group. If there is something you would like answered or covered in the SIG, let me know in the iPhone/iPad SIG conference on the BBS

MacMost Video Tutorials
iOS | iPhone | iPad

DVMUG Food SIG Meeting
Thursday, July 25th
7 pm to 9 pm
(Third Tuesday of the month)
DVMUG Office 396 Civic Drive Pleasant Hill

 Get a map to the DVMUG Office
Leader:
Anne Griffin
925-405-564
Each summer this SIG meeting explores the food and recipe resources available on the Internet and does in-house sampling and comparing of both common and exotic foods. Those who meet at the office at 5 pm, before the SIG meeting's official start at 7 pm will have a bite to eat before returning to the office to check out recipes and info on the Internet.
Previous DVMUG Food SIG Meeting Topics and Photos
This month we will be tasting Dipping Sauce
We will also be taking a look at the Diablo Magazine 2019 Best of the East Bay Food List.
Dinner will be at Mikuni, 2075 Diamond Blvd Ste 100, Concord.
Mikuni Photos
DVMUG Mac Clinic

Saturday, July 27th
10 am to Noon
1:30 pm to 4 pm
(Fourth Saturday of the month)
DVMUG Office
396 Civic Drive
Pleasant Hill

Get a map to the DVMUG Office

Leader: Rick Calicura
925-228-4992
Clinic volunteers include:
| | | |
| --- | --- | --- |
| John Sobrero | Anne Griffin | Chris Wysocki |
| | | |
| --- | --- | --- |
| Don Nelson | Tina Tanenbaum | Brenda Boswell |
Previous Clinic Lunch Photos at,
dvmug.org/blog/?p=8994
Make your sad Mac happy again! At DVMUG's legendary MacClinic., we can upgrade your Mac's memory (you supply the memory; we can tell you where to get it). We can upgrade most Macs' data storage by installing a new hard drive or solid-state drive. We can troubleshoot problems with malware, adware, and botched installations. We can help setup of your iOS device, back it up to your Mac, and transfer your data to a new iOS device. Appointments for the MacClinic must be made by phone (for triage), then time slots will be assigned. Remember that the services you receive as part of your DVMUG membership beat the heck out of what you would pay elsewhere. Obviously, the DVMUG office rent never stops and donations are gratefully received.
Add RAM to your Mac
Upgrade your Mac to an SSD drive
Install a backup drive or recover data from a hard drive
Upgrade macOS or iOS to the current version
Migrate your apps and data to a new Mac
Securely erase an old Mac for ewaste or donation
Backup your iPhone or iPad to your Mac
Sync your iCloud to your Mac, iPhone, and iPad
Perform housecleaning and remove old apps and downloads from your Mac
MacClinic Favorite Apps