2018 DVMUG-Apple User Group of Rossmoor Film Fest
Tuesday, August 21st · 7pm – 9pm
Peacock Hall in Rossmoor
Tice Creek Dr and Golden Rain Rd
Walnut Creek, CA
Get a map to the Peacock Hall
You can RSVP on the Facebook meeting page
Previous Film Fest Awards and Videos
Lights! Camera! Action! It's Film Fest Time Again!
If you have been to one of our previous Film Fests at Rossmoor's luxurious Peacock Room, you already know it is a match for the finest private theater around, with lush soft seats, a grand screen, and a high-quality sound system.
Over the past 11 years, those attending the Film Fest have voted for the 'Best of Show' entry, which has been awarded the coveted 'Jeddo' trophy. (Initially the trophy was named 'Stevie' after Steve Jobs. It became the 'Jeddo' in 2010 in remembrance of Jed Mark, a beloved president of DVMUG.)
The format of the Film Fest is changing this year. We will be screening a retrospective of the eleven 'Best of Show' entries since the Film Fest began in 2007. There will be no need for a vote. All eleven of these winners are very special! 
Immediately following the Film Fest screenings, join us for wine & cheese in the adjacent Fireside Room. While you sip your wine and savor the gourmet cheeses personally selected by our DVMUG Food SIG Leaders, enjoy a Q & A (question and answer) panel with our trophy winning film makers. This is your opportunity to meet the creators and glean some excellent photographic and video tips.
The Film Fest kicks off at 7pm on Tuesday, August 21st at the Peacock Theater in Rossmoor. Admission is free.
Film Fest 2018 Cheese
photos.app.goo.gl/Gia1xyEMTHckLffM9
Peacock Hall in Rossmoor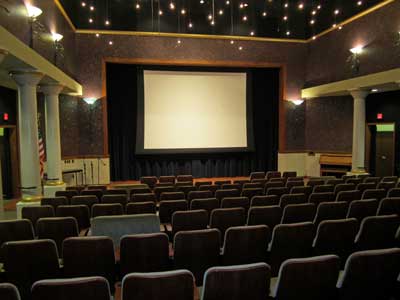 Peacock Hall in Rossmoor